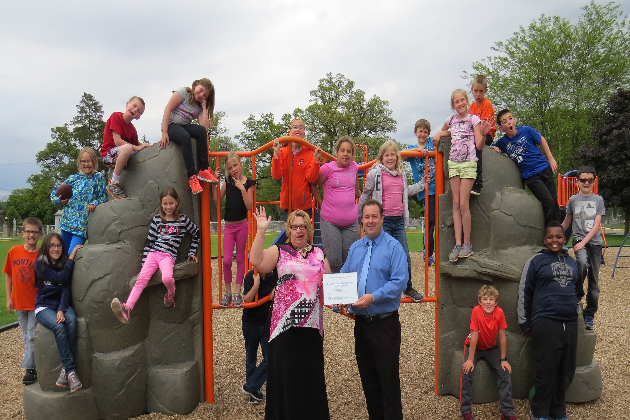 By Cynthia Grau/WJEZ News
Pontiac's Lincoln School was presented with Pontiac Area Chamber of Commerce's 2015 Commercial Beautification Award for all the work they've done to improve their facility.
School Principal Mike Weaver explained all the work that has been done.
"Over the past several years, we've put in a brand new bus lane, we have brand new basketball hoops, we've reworked our playground area. The city has helped us out tremendously with the new roads on Reynolds Street and they're going to continue doing projects around here this summer to help with the functionality of the building as well. We also put a brand new sidewalk up front," Weaver said.
Mindi Terrell, executive director of the Chamber, said she enjoyed how much the students liked the new playground equipment.
"When I got here and we were asking what all their favorite stuff was, we got everything from the jungle gym to the swings to the basketball hoops to the climbing rocks. You could just tell they were so excited about everything," Terrell said.
Weaver also thanked everyone for all the time they put into the improvements, from the City of Pontiac to the 429 school district.