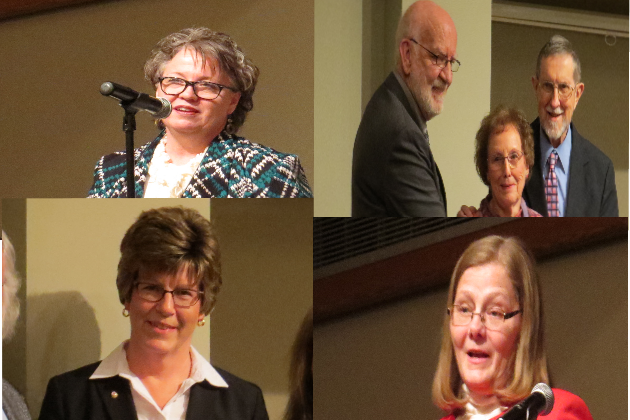 By Cynthia Grau/WJEZ News
The 2016 Pontiac Area Chamber of Commerce Annual Banquet recognized several award winners and students from Pontiac Township High School and area junior highs.
Rose Smith was recognized as Educator of the Year by the Pontiac Kiwanis Club for her years of work with special needs students.
"Of course, I don't feel like I do anything differently than all the teachers and educators do, so to be singled out is, of course, an honor. Everyone who goes into education goes into it to work with the kids. It's not about an honor, but it's nice. It's very nice," Smith said.
Cindy Kridner was recognized with the Bill Edwards Agri-Business Person of the Year for her work with the Farm Service Agency in Pontiac.
"I'm just overwhelmed. Bill Edwards was my dad's boss and my brother's boss and he was good to our family and what an honor. What an honor," Kridner said.
The Reverends George and Rubye Russell were recognized as the Volunteers of the Year for their dedication to service, namely the Livingston County Community Food Pantry.
"Thank God for the strength he gives us. It's not something we work at, it just happens," George Russell said.
"That's right, it just happens," Rubye Russell agreed.
Pam Schahrer was recognized as the Business Person of the Year for her years with Driscoll Motors, leading to her purchase of the business and continuation of service.
"It's really overwhelming and I'm very appreciative. The key is a great team and great support at home and it all works," Schahrer said.
Ten high school students and nine junior high students were also recognized for their academic, extracurricular and civic involvements.