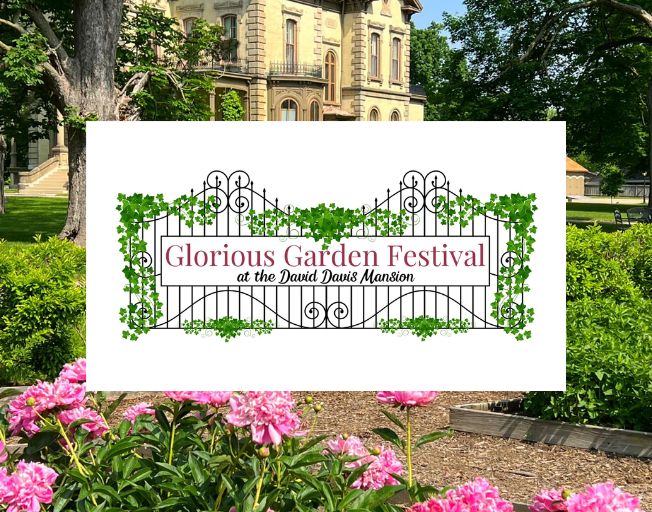 The 26th Annual Glorious Garden Festival will take place July 15-16, 2022 with all events starting at the David Davis Mansion in Bloomington.
The Glorious Garden Walk requires a paid ticket. This ticket gives gardeners and garden lovers two days to visit nine beautiful private gardens in the community.
Glorious Garden Walk
Friday, July 15th | 1:00 – 7:00pm
Saturday, July 16th | 9:00am – 3:00pm
Tickets for the Garden Walk are on-sale now and can be purchased online – CLICK HERE to purchase online. You can also purchase tickets at five local businesses: AB Hatchery & Garden Center, Casey's Garden Shop & Florist, The Garlic Press, Growing Grounds Lawn & Garden Center, and Wendell Niepagen Greenhouses & Garden Center.
Several free events are included in the 2022 Glorious Garden Festival!
Garden Fair – Visit the David Davis Mansion lawn where you can shop local artists, craftspeople and businesses selling garden-inspired art, plants, and treasures. On Saturday only, community partners will offer garden-themed activities and art projects.
Free Tours – Enjoy Sarah Davis' historic garden given by Master Gardeners and a walk through the David Davis Mansion with experienced docents.
Fun for the Kids – Bring the family to experience the Bloomington Public Library Store Walk in Sarah's Garden, featuring "Some Bugs" by Angela Di'Terlizzi. The Garden Walk also features an interactive Scavenger Hunt.
Find full details of the Glorious Garden Festival on the David Davis Mansion's website.