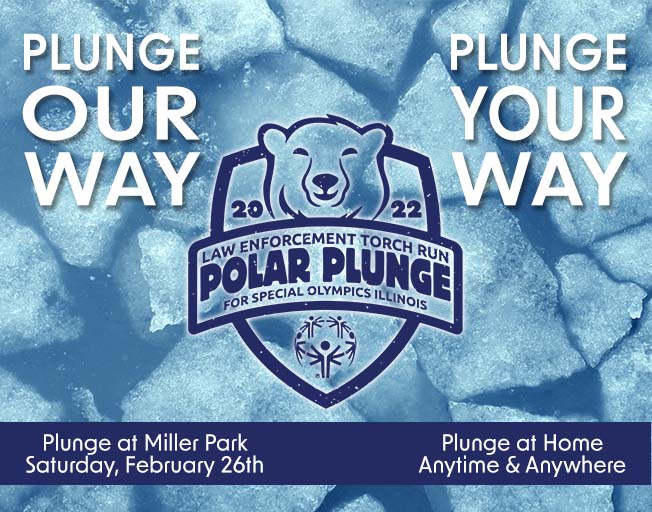 It's that time of year again… Time to #BeBoldGetCold for Special Olympics Illinois!
This year, Special Olympics Illinois is giving you two options to participate – Plunge OUR Way or Plunge YOUR Way.
Plunge OUR Way by joining us at Miller Park in Bloomington to plunge into the lake on Saturday, February 26th.
OR Plunge YOUR Way getting creative to make it your own. If you can dream it, you can do it (safely, of course).
Each year the proceeds collected by participating plungers benefit the 23,000 traditional athletes and 17,000 young athletes of Special Olympics Illinois. Their mission is to provide year-round sports training and athletic competition in a variety of Olympic-type sports for children and adults with intellectual disabilities, giving them continuing opportunities to develop physical fitness, demonstrate courage, experience joy and participate in a sharing of gifts, skills and friendship with their families, other Special Olympics athletes and the community.
You can be a part of this event by plunging solo or forming your own team to take the plunge. Click here to register.
You can join our team to take the plunge. Just CLICK HERE and click the "Join Our Team" button to register to plunge with us.
If you like to stay warm and just want to donate to one of our plunge team members that is also a great way to be a part of the event. Click on the name of the person you want to help support to go to their donation page.
BUCK STEVENS


B104 Radio Personality – Polar Plunge Team Captain
Get complete details about the 2022 Bloomington Polar Plunge for Special Olympics Illinois by clicking here.
We appreciate anything you can do to help support Special Olympics Illinois and the 2022 CUMULUS MEDIA Radio Bloomington Polar Plunge Team!