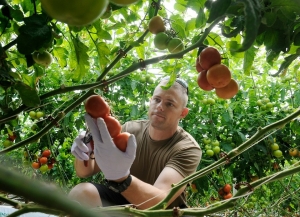 By Haley Kosik/WJEZ News
The Illinois Department of agriculture has a new program called Homegrown by Heroes, which aims to help military veterans pursue careers in farming and agriculture.
Richard Guebert Jr., president of the Illinois Farm Bureau, said the initiative will include a variety of programs that pair veterans with volunteer organizations and experienced farmers.
Some programs consist of farmer training, farmer's market opportunities and partnerships, and assisting veterans in developing value-added products. Guebert said It also helps veterans foster relationships with retailers and food service organizations and makes resources available for veterans wishing to farm.
Philip Nelson, director of the Illinois Department of Agriculture, said the program brings more possibilities to the world of farming.
"We could continue the traditions of the family farm. Introduce veterans and their new ideas and innovations and possibly even introduce a veteran to agriculture for the very first time," said Nelson.
When the number of producers grows in this state, it grows our economy. Illinois exports nearly $9 billion of agricultural products per year. Certified veterans who grow and sell produce will place Homegrown by Heroes' stickers on their products.
Applications to participate in the program are available on the Illinois Department of Agriculture website.