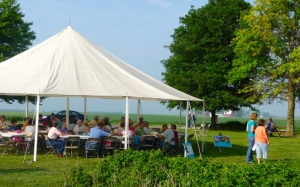 By Cynthia Grau/WJEZ News
The Farmers' Share Breakfast will be at Kilgus Farm in Fairbury Saturday, June 6, which will give people a chance to eat together and check out the dairy farm and other agricultural displays.
For only $1, attendees will dine on biscuits and gravy, scrambled eggs, milk, coffee and orange juice, prepared by the Livingston County Farm Bureau Young Leaders committee and local farmers.
The Livingston County Young Leaders are a group that works throughout the year to provide events and programs to promote agriculture to the community.