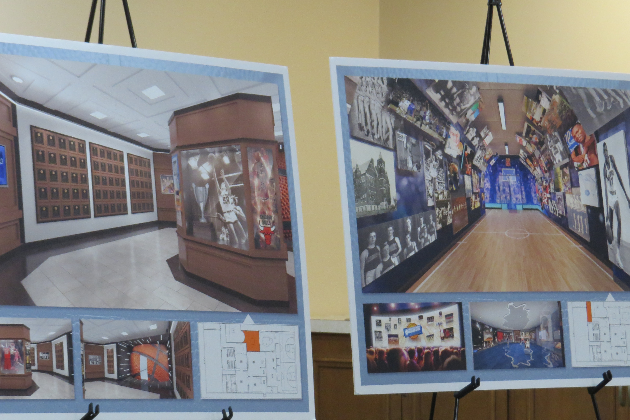 By Cynthia Grau/WJEZ News
The long awaited Basketball Museum of Illinois is getting closer to opening, but a few details need to be worked out first – money.
In a press conference held Wednesday morning, Museum Chairman Bruce Firchau still couldn't give an idea for an opening date.
"I can't do that for you. My museum board and Joe Maude – it would really pin us down and then we would be setting ourselves up for failure if we didn't get that, because we don't know how long it takes the contractors to go in there and do their work. Once the construction is done inside, it's four to six months to move everything in there," Firchau said.
While discussing fundraising that still needs to be done before the museum can be completed, The Maude Group's Principal Joe Maude described the plan for the museum.
"At any destination, you need to make it an experience. There's a building and what's inside of it is the experience and the facets are what draws people to come. Obviously, the artifacts are near and dear to some of the people that lived in those times, but one of the key things in our business is you interpret that to how it would resonate with a young man or woman today and how can they compare their life and their basketball experience to what happened 50, 80 years ago. This whole experience is yesterday, today. It's going to feature the actual tournament, the actual brackets and what's going on in the state live, real time, and in the future, we have interactive there to help kids train, fundamentals of basketball. It's not a static look at the past, it's how the past informs today and gets people excited about basketball tomorrow," Maude said.
Pontiac Mayor Bob Russell, explains all the ways this museum will benefit the city.
"The goal for Pontiac in this whole thing is to redevelop the K-Mart Plaza. The odds of that happening, we found, were very very slim. The owner saw this opportunity and said 'This is a once in a lifetime opportunity to build this plaza back up and we already have over 20 retail stores interested in being next to this.' That's the benefit to our city. Anytime we can fill those stores, it generates retail sales; it generates tax for the city. It generates a lot of jobs. It's going to clean up an eye sore. It's going to recreate retail and recreate jobs, so it's a wonderful thing for Pontiac," Russell said
Illini basketball legend Dee Brown, who is in the class of 2017 that will be inducted into the Fighting Illini Athletics Hall of Fame in June, shared his excitement for the museum.
"I think that museum is going to be special. I can't wait to walk in there. Can't wait to shoot some shots on the courts in the back. Walk around and see the real history of the State of Illinois and all the great players that came through here. You know, that's one of the things that's lacking nowadays in the world is respect. You have to respect and understand the people who paved the way for you. I know the history and tell people on the education side, you take the core courses and one of them is history. I will tell people if you want to step on that basketball court, know your history and know the people who put the jersey on before you and paved the way. I definitely understand my history and it's a rich one," Brown said.
Visit the Basketball Museum of Illinois website at ibcaillinois.org/basketball-museum.cfm.