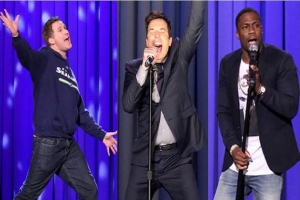 By Cynthia Grau/WJEZ News
The Prairie Central FCCLA is holding its Lip Sync Contest tonight at Chenoa Elementary at 7.
Jimmy Fallon's Lip Sync Battles from the Tonight Show were an inspiration for the group's fundraiser, which will help send 14 members to the National FCCLA Competition in Washington D.C. in July.
The group has made a hashtag for the event and plans to document the entire thing on Twitter, Facebook and Instagram with the hopes in catching the attention of Fallon.
To help, people can use the hashtag #synctothebeats paired with Fallon's Twitter handle @jimmyfallon.